Semco Metal Guillotine Shearing Machines.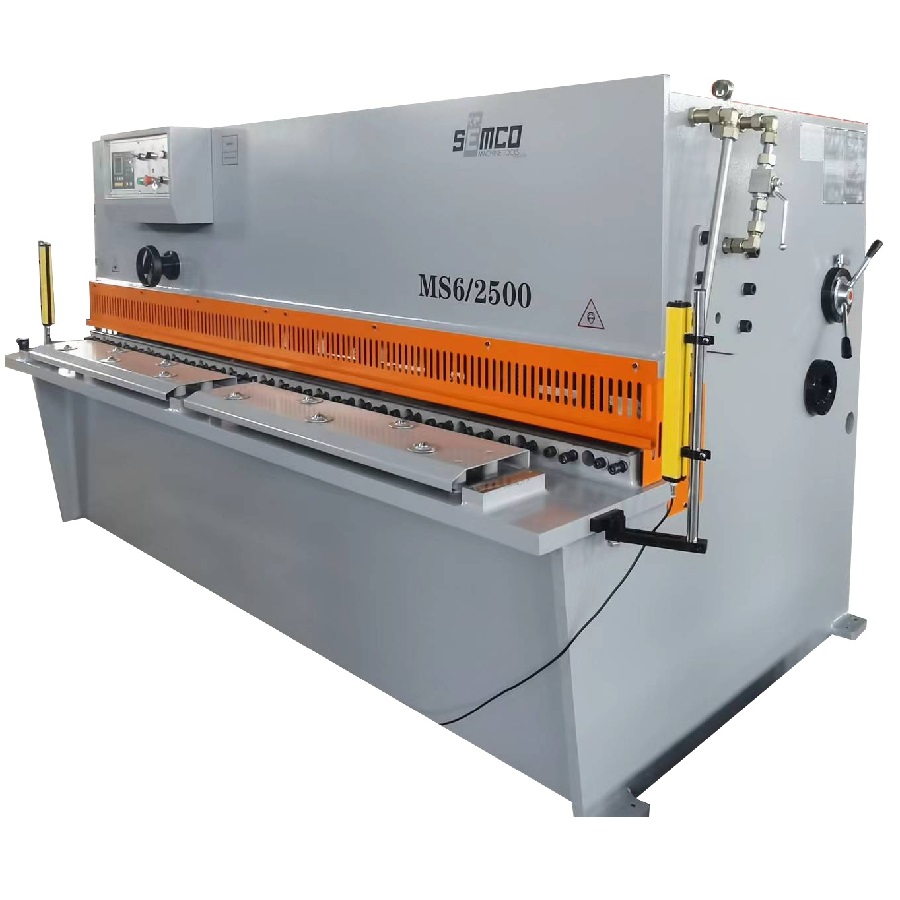 We are pleased to offer our extensive range of metal guillotine shearing machines for shearing and cutting metal. These machines are well designed and built to last. They are used to cut blanks and sheets for fabricating. We can supply these at fantastic prices with mass production techniques in a purpose built factory it is possible to get the price down. CE & CA Marked.
Semco guillotine shearing machines offer a variable shearing angle, which can reduce the shearing distortion of the sheet and can shear a much thicker sheet metal. It has a handwheel to rapidly and accurately adjust the blade clearance, shearing in sections with shadow-line cutting.
The rectangular monoblock blades featuring long life with 4 cutting edges, quality high-carbon high-chrome blades D2 quality.
These machines are manufactured to a modern design with a heavy duty fabricated construction.
They are fitted with the Estun E21S NC Programmable back gauge which can store 40 programs of up to 25 steps. So you can press the pedal to cut 10mm strip, then the next press the back gauge will move back to 20mm & so on making multi size cutting easy and accurate. It is very quick and easy to use so a must on any machine.
Available with a choice of sizes
Specifications.
Gallery.
Guillotine Shearing Machines Design and build.
Our machines are traditionally built to a European design, with two main fabricated parts, with the main frame being the back and the base then the floating ram that rises and falls to cut the material. Guards are standard along with a wandering foot pedal and then to improve the whole concept a Estun E21 CNC control. So this makes a great machine package at a great price.
Delivery and installation.
Our delivery companies can deliver your machine and offload it with a variety of ways. Then either drive it in with a versa lift or skate it in to position. Then once its there our fully trained engineers will level and commission it. Once this is done we will train you in its operation.